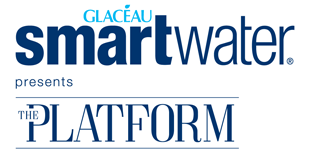 smartwater PRESENTS 'THE PLATFORM' APPLICATION PROCESS
LAKME FASHION WEEK WINTER/FESTIVE 2019
Application Deadline :- The last date for sending your 'Emerging' application is Thursday, 20th June 2019.
About smartwater :-
smartwater is the leading water brand in the USA, which was launched in India in 2017

smartwater uses vapour distillation to separate impurities from water, and then remineralizes it with electrolytes to give it a crisp, clean taste

smartwater's unique process is inspired by clouds, which delivers a tech-forward product, making it superior than sourced water

It symbolizes progress in life and caters to an eclectic audience that prefer a 'better way of doing things'

smartwater consumers are distinctive in their outlook and innovative in their methods.
GENERAL INFORMATION :-
It is a special initiative by Lakme Fashion Week to provide a unique platform for emerging designers from across India to reach the fashion industry in the country.

If you are a designer applying to be part of this program, you must have been in business under one designer label name for minimum 2 years.

To qualify, all designer applicants must present credentials and designs under menswear (ready to wear) or women's wear (ready to wear) categories.

SmartWater presents 'The Platform' program is an exclusive opportunity to enjoy substantial media exposure, both locally and nationally by showcasing at India's premier fashion platform – Lakme Fashion Week
CREATIVE DIRECTION & CRITERIA FOR THE smartwater PRESENTS 'THE PLATFORM'
THEME: Made Differently-
smartwater presents 'The Platform' program at Lakme Fashion Week is a platform for young Indian designers to conceptualize imaginative, original and thought provoking collections for a discerning fashion audience in India and globally.

The designer has to demonstrate innovation in fabrics/materials or surface application. The upcoming season will be driven on innovation which should clearly reflect on how the collection is made differently. Cutting edge technology and innovation in materials/surface development is the key for the application. It is important for the designer to highlight the process of developing the collection which focuses on how it is #MadeDifferently

The applicant must position herself or himself no less than an artist, using relevant materials for translating a strong concept into an artistic composition of form, shape, colour, pattern, print, embroidery and weave. The chosen elements should be thoughtfully presented in a balanced manner, with self-driven critical judgment on the scale between excess and minimalism.

The applicant must demonstrate qualitative obsession with fundamental parameters of construction of the samples such as craftsmanship, tailoring, detailing and finishing.
Phase One
APPLICATION PROCESS :- All designers who wish to apply for smartwater presents 'The Platform' program must follow 2 steps:
STEP 1)
STEP 2)
Download the power point presentation template "CLICK HERE".

Fill in the power point presentation of 4 slides only with your label information, Moodboard, Previous collection images and picture of your design- strictly as per instructions mentioned in the slides.

DO NOT tamper with the presentation format, there is no need for special effects/visuals

Please email the power point presentation at – Shruti.singh@imgreliance.com and lfw.consultant@imgreliance.com

Please mention "smartwater" - *insert designer label name* in SUBJECT LINE

Please do not submit samples unless requested to do so.

Kindly note the last date for submission of the presentation is 20th June 2019.
PHASE TWO (for applicants who are selected in Phase One)
Submissions :-
Once an applicant has completed the application form/presentation online, this will be reviewed and the candidate will be notified by email whether the application has been accepted

Once the applicant has been selected, they will be asked to submit two sample garments from their current collection which will be considered for the Jury shortlist.

Applicants hereby acknowledge that they are sending garments at their own risk and IMG Reliance or HUL (Lakme fashion week) won't be liable in the event that the garments get lost or damaged during transit or during the course of selection process.
SELECTION GUIDELINES :-
All applications are screened and examined by a special jury committee

This board comprises of leading journalists, educationists, designer storeowners, buyers, designers as well as a representative from Lakmé & IMG Reliance.

The board makes the final selection based on the designers' quality, innovation, marketability, originality and ability to legitimately take their business to the next level.
GUIDANCE NOTES FOR SUBMISSION OF SAMPLES & PRESENTATION :-
Designers should strictly follow the creative direction and the brief

Designers should submit their original work and avoid any attempt towards plagiarism.

Any kind of inspiration used in the theme/collection should be explicitly mentioned.

One sample which will be submitted by the applicant should clearly highlight the theme of the collection.

The sample submitted by the designer must be stitched and finished to the best quality.
GUIDELINES FOR PICTURES/SKETCHES :-
Pictures of samples should be taken on professional male or female models

Pictures of the samples on a model should be styled appropriately and should indicate the right placement of an accessory used.

In-case collection carries separates like trousers, tops or jackets, the pictures should clearly indicate the complete look.

Designers should provide high quality sketches in the presentation.
OUTCOME :-
A masterclass for the three selected designers to catapult the career to the next level through expert mentorships, real-life training and exposure along with the opportunity to showcase at Lakme fashion week.

1 designer to be given a chance to win a one week incubator program and a scholarship fees of 3 lacs.